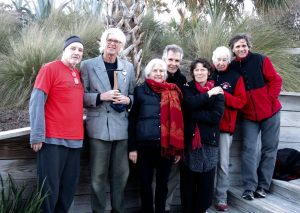 from the Kings Bay Plowshares Support Group
December 22, 2018
Friends,
We are waiting for the decision on the Religious Freedom motions, fitting in this Advent season of waiting. A decision is expected by the end of January and then a trial date may be set. A memo from lead attorney Bill Quigley follows, explaining in more detail how he expects the legal process to proceed. There is also a note about Mark Colville's decision to go back to jail after his successful cancer surgery. As the season of giving comes upon us, we also come to you to ask for more donations.
Mark Colville Returns to Jail
As you may know, Mark bonded out of the Glynn county jail in September to get surgery to remove a cancerous growth on his nose. He chose to go back to jail on December 11 after successful surgery and recovery. With the oppressive curfew restrictions and ankle monitor he felt that he was halfway in jail and getting no credit for it. So after some confusion as to how to proceed, as defendants rarely return voluntarily to custody after getting out on bail, he reentered the jail to join Steve Kelly and Liz McAlister and has the same address and number as previously. He wrote a moving letter before going in which is posted on the website in the Jail Addresses section.
LEGAL UPDATE
from Bill Quigley, November 19, 2018
Since the last update on 9.26.18, there have been two pre-trial hearings in federal court to allow the Kings Bay Plowshares to put on evidence about why their religious beliefs led them to take their actions and why this prosecution should be dismissed. One hearing was on November 7, 2018 and the second was on November 19, 2018.
The Kings Bay Plowshares asked the court to dismiss these prosecutions for several reasons. Nuclear weapons are illegal under US law. Nuclear weapons are illegal under US Treaty Law. Nuclear weapons are illegal under international law. And prosecuting peace activists for taking action based on their religious beliefs violates the Religious Freedom Restoration Act.
The court heard arguments on the motion to dismiss and then asked for more briefing on the Religious Freedom Restoration Act.
Additional briefs and affidavits on the Religious Freedom Restoration Act were submitted and are set out in the 9.26.18 legal update. As part of those pleadings, the Kings Bay Plowshares asked for an opportunity to tell the court what their religious beliefs are and why those beliefs led them to symbolically disarm the nuclear weapons at Kings Bay.
The court heard their testimony at the two November hearings. During those hearings each of the Kings Bay Plowshares took the stand and told the court why they took the actions they did. The government put on a few witnesses as well arguing that there was no way the government could be expected to accommodate these actions by religious people.
At this time, the US Magistrate has not ruled on the pre-trial motions. Once the hearings are transcribed both the prosecution and defense will be given 20 days to submit short memos. Then the Magistrate will issue his report and recommendations on the various motions to dismiss filed by the defendants.
After the Magistrate issues his report and recommendations, those will be sent to US District Court Judge Lisa Godbey Wood for her decision. The Kings Bay Plowshares and the government will be given another opportunity to respond in writing and likely have oral argument on the pretrial motions to dismiss at that time.
Complicating all this is the fact that there is a new US Magistrate presiding over preliminary matters in the Kings Bay Plowshares federal prosecution. Benjamin Cheesbro replaced Stan Baker as Magistrate after Baker was nominated by President Trump and confirmed by the US Senate to become a new District Court Judge. Baker presided over the bond hearings and the first argument on the motion to dismiss. Cheesbro took over and presided over the last two hearings.
Support the Kings Bay Plowshares Seven
You're reading this because you are part of the Plowshares movement. You wonder and are concerned and pray around what will happen to our friends for their witness and sacrifice. You want to make the most of what they have given. Thank you.
You may have donated already. We ask you to give again. And ask one friend or several to join you. It will give you a chance to deepen their involvement for peace.
As you read herein, in November the seven had their hearing on their motion for dismissal under the Religious Freedom Restoration Act and they are expecting to go to trial early next year. There are a lot of expenses involved around their witness and the trial and support. Almost everything, including their excellent legal defense team, is being done by volunteers. We have a budget of $50,000. We have raised about 70 percent of that goal so far. We need to cover upcoming housing, travel, and related expenses which will help with our efforts to maximize publicity and awareness.
Our friends have met the epic threat of omnicide with epic action and sacrifice. Let us support our sisters and brothers who put their lives and freedom on the line to shake our culture from its slumber, to witness us awake. Their action is necessary to our times. Please join this effort to support them and to amplify their call to action. You will be supporting local organizing in the community around the base as well as the trial costs.
Now we need your support to get us to our goal. Please give until it hur… feels really warm and fuzzy!
You can donate online at kingsbayplowshares7.org and click the donate button or send a check payable to Plowshares to PO Box 3087, Washington, DC 20010.
We can't thank you enough for your support, for your being a part of the Plowshares support community, and helping to make the most of our friends' witness and sacrifice.
Peace and blessings upon you this Christmas season!
Steve Dear