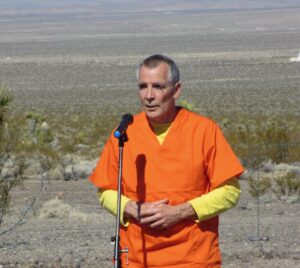 by Felice Cohen-Joppa
On March 30, the day Fr. Steve Kelly, S.J. arrived at FDC SeaTac after three and a half months of transport from the county jail in Brunswick, Georgia, his Tacoma, WA attorney Blake Kremer was given less than a 24 hour notice that Steve was to have a preliminary court hearing on Wednesday, March 31.

Last summer, Steve postponed his Kings Bay Plowshares sentencing in Georgia until he could appear in person in the courtroom, as is his right and something that is important to him (due to COVID, court was taking place virtually, by secure video). And after three and a half months in transport, he arrived in the Western District of Washington only to learn that the Tacoma federal court is currently only doing virtual hearings by video. Because of Steve's intention to appear in person, he waived his appearance and was represented by his attorney.
The stated purpose of the hearing, which lasted 30 minutes, was to advise Steve re: terms of probation.

The alleged violations being addressed by the court:

1. Failing to report to the probation office as instructed, on or about September 6, 2017, in violation of a standard condition of probation. (part of his sentence for a line crossing at the Bangor Trident nuclear submarine base)
2. Committing the offense of conspiracy, destruction of property on naval installation, depredation of government property, and trespass on or about April 5, 2018, in violation of a mandatory condition.
3. Entering military property on or about April 5, 2018, in violation of a special condition.

He faces a possible six months imprisonment for these violations.

Magistrate Judge David Christel then said he would set a preliminary date for Steve to appear in person to hear the alleged violations and enter his response.

Blake asked, since Steve was stipulating to the legal violations, if they could move forward with expedited sentencing that day. He also pointed out that if his client were present, he would say that these alleged violations were religious acts and acts of conscience.

The judge asked Ms. Sievers, U.S. Attorney, if she thought the stipulation was enough to proceed with expedited sentencing. She argued that it was not. She pointed out that there were 13 days until they hit the max of Fr. Kelly's possible six month sentence on April 13 (given the time Steve has served after the conclusion of his Kings Bay Plowshares sentence). She suggested setting a hearing for that date.

Blake then said that Steve has already been in prison for three years, and suggested that it would be reasonable for the court to say that it has enough information to close this case today, and not consume further court resources by having another hearing.

Mr. Johnson from the probation department then spoke up about what he identified as "a bit of a quagmire": Fr. Kelly still has a term of supervised release that he must adhere to in Georgia, and was not providing an address of where he would be living (a requirement of supervised release).

The judge replied that there are some complications, with another federal court having an active case pending.

Blake pointed out that while this does present additional problems, they are the Southern District of Georgia's problems, and with his client so close to maxing out his sentence here in Washington, they are not problems of this court.

Magistrate Judge Christel asked Mr. Johnson if probation would have a recommendation prior to the 4/13 hearing. Mr. Johnson replied that he already had a recommendation, that Steve be ordered to live in a halfway house and continue to be supervised by the court.

The judge then set another hearing on April 13 at 10 a.m. It will likely be virtual again, conducted by video, but he said he would find out if a very limited in-person hearing would be possible by then, so that Fr. Kelly could appear in the same courtroom as him.

Blake spent the rest of the day working with U.S. probation and their post-release unit, advocating that Steve could not be ordered by this court to live in a halfway house, when he had served his maximum sentence. Blake explained that ordering Steve to do anything would be without purpose as the court could no longer unsuspend any of Steve's sentence, having forced him to serve it already in entirety. The following morning the probation office agreed, changing their position, writing: "We will be recommending Father Kelly's term of probation to be revoked and he be sentenced to time served with no option for supervision to follow."

In the meantime, Steve is in quarantine for two weeks. You may write to him at the address below:
Please use plain white paper and write with black or blue pen only. Also write your full name and return address on a plain white envelope along with his address as it appears below. Do not affix any stickers, glue, glitter, etc. to the letter or envelope (don't use a return address sticker).
Stephen Kelly #00816-111
FDC SeaTac
Federal Detention Center
P.O. Box 13900
Seattle
,
WA
98198