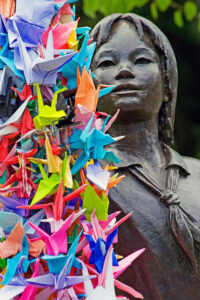 The following guest opinion was published in the Arizona Daily Star on August 6, 2020, and signed by 154 individuals and 21 organizations and faith communities.
by Jack & Felice Cohen-Joppa, The Nuclear Resister
Seventy-five years ago on August 6 and 9, 1945, the United States launched humanity into the nuclear age with the atomic bombings of Hiroshima and Nagasaki, Japan. More than 200,000 people were dead within days, half of them killed in an instant as the flash and blast flattened their cities. Hundreds of thousands more were maimed by the bomb or sickened by the "black rain" of radioactive fallout. Birth defects, leukemia and other cancers, chronic disease and the many long lasting effects of radiation exposure are still being felt today.
» Read more…