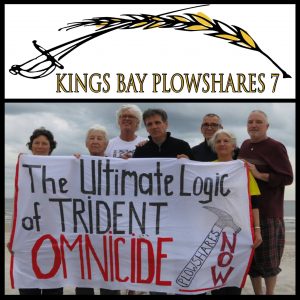 UPDATE: Trial date set for October 21.
BRUNSWICK, GA – On August 26, a federal judge denied all the pre-trial motions of the Kings Bay Plowshares 7. The activists had urged U.S. District Judge Lisa Godbey Wood to dismiss their charges for numerous legal reasons as well as the fact that the hundreds of first strike nuclear weapons on the submarines based at Kings Bay Naval Base are illegal and immoral.
The judge found the Plowshares did establish a prima facie case under the Religious Freedom Restoration Act because they were sincerely religiously motivated to challenge the nuclear weapons at the Naval Base. Wood also found that the government's actions substantially burdened their right to exercise their religious beliefs. However, the judge went on to rule that the government had a compelling interest in keeping unauthorized people out of the base and the prosecution of the Plowshares activists was the least restrictive means of protecting the safety of the base.
» Read more…